TORONTO, ON – December 3, 2021: As Canada's leading promoter of Indigenous art at auction, First Arts' fifth successful auction on November 30th set several new world records for works by Inuit and First Nations artists. During the live auction – our first with the public in attendance since May 2019 – 125 works from the historical and classic, as well as the modern and contemporary periods were auctioned for over $1,000,000 in total sales.
The top sale of the evening was Kiugak (Kiawak) Ashoona's magnificent Howling Transforming Spirit, which at $120,000.00 is the second highest public result for the artist and the highest price realized at auction in Canada. The work was formerly owned buy celebrated Canadian author Paul Duval.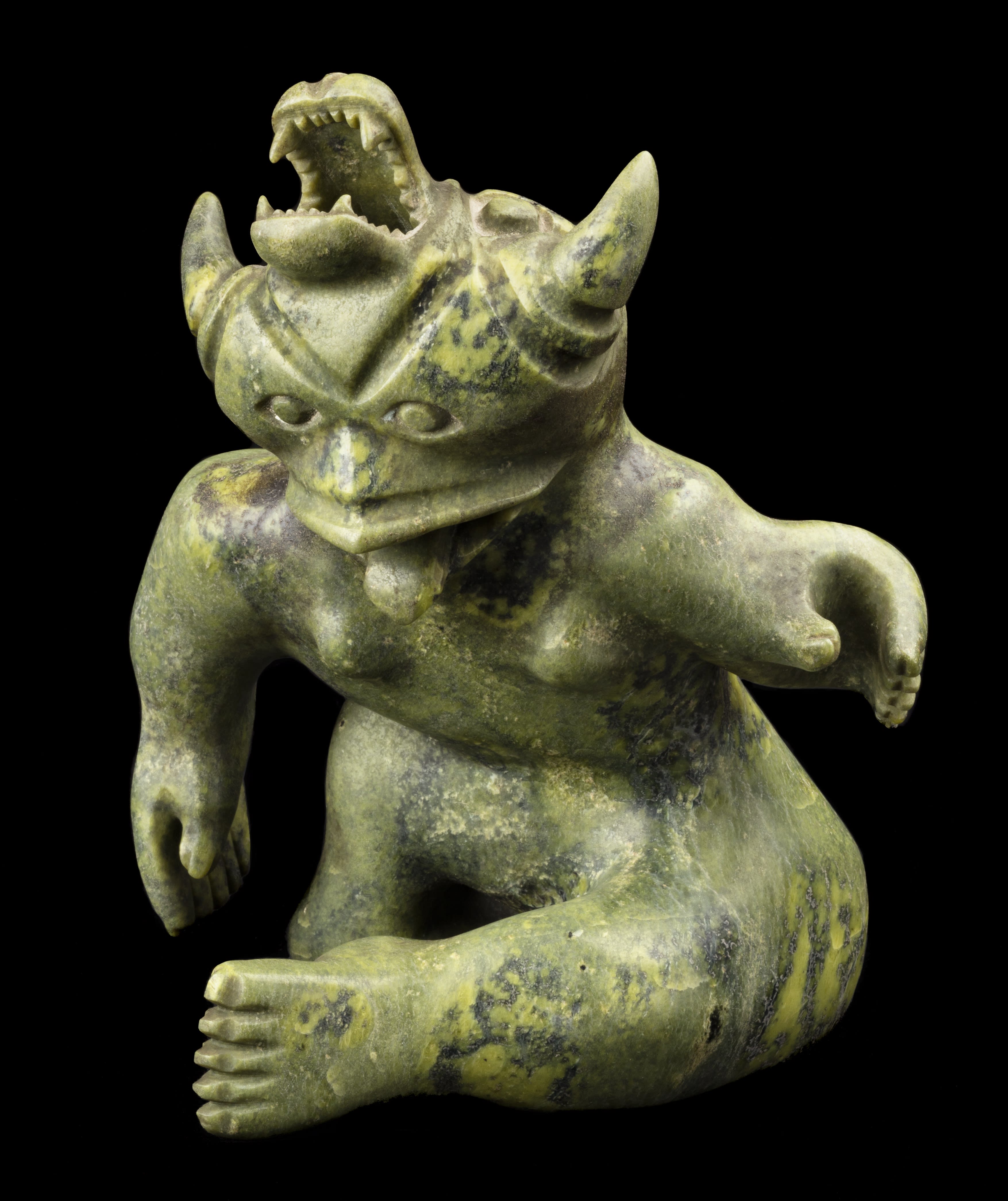 LOT 21
KIUGAK (KIAWAK) ASHOONA, O.C., R.C.A. (1933-2014) KINNGAIT (CAPE DORSET)
Howling Transforming Spirit, 1963
stone, 8.25 x 8 x 5.5 in (21 x 20.3 x 14 cm)
ESTIMATE: $25,000 — $35,000
Price Realized: $120,000.00
Among the works that set world record auction prices were:
Rabbit Eating Seaweed by Kenojuak Ashevak: $84,000.00 (A record for the print at auction).
Rearing Caribou by Sangani Osuitok and Osuitok Ipeelee: $66,000.00 (A record for Sangani Osuitok at auction).
Family And Igloos by Lucy Tasseor Tutsweetok - $52,800.00 (A record for the artist at auction).
The Blind Halibut Fisherman by Gary Minaker-Russ - $36,000.00 00 (A record for the artist at auction)
"We are thrilled that our curatorial approach to selling Indigenous art is attracting more and more serious interest among collectors internationally," said First Arts President, Ingo Hessel. "Naturally, we are delighted that our offerings of spectacular works continue to achieve exceptional auction results," he continued.

First Arts is committed to encouraging Indigenous artists, empowering Indigenous voices, and supporting Indigenous communities through regular donations to a wide range of philanthropic and cultural initiatives. As part of these ongoing efforts, First Arts will announce a new round of donations later this summer. Among the works that set world record auction prices were
About First Arts
First Arts is the only auction house in Canada that focuses exclusively on Inuit, First Nations, and Métis works of art. These works are brought to the attention of collectors through live auction, online, and retail exhibitions.
Specialists Ingo Hessel, Nadine Di Monte, Mark London, and Patricia Feheley bring well over a century of experience working with Indigenous art, artists, collectors, and museums.
For additional information or high-resolution photographs, please consult our website or contact:
Nadine Di Monte
info@FirstArts.ca | 647 286 5012