Jack Butler was born in Pittsburgh, Pennsylvania in 1937, and received BFA and MFA degrees in the U.S. He began teaching art at the University of Manitoba Winnipeg in 1962, and subsequently at the Edinburgh College of Art in 1964-65. In 1969 he was a hired to work as an arts and crafts officer in Baker Lake (Qamani'tuaq). Jack Butler and his wife Sheila worked there until 1972, but Jack continued to act as an arts consultant to the community until 1976.
Before Jack and Sheila Butler arrived in Baker Lake, commercial craft and artmaking had existed in the community for around a decade. In 1958, the commodification of traditional items (toys, small carvings) was introduced by a Northern Service Officer. A formal arts and craft program was thereafter established in 1963 which invited a host of government and officials and Southern-trained artists to work as art advisors to the Inuit. These advisors often steered budding artists in the direction of a Western art aesthetic, described by Marie Bouchard as an "intent to shape contemporary Inuit art into an art form that would be attractive to a white southern culture." [1] When the Butlers arrived in 1969, they brought with them a radically new method of art advisory: creative freedom.
The Butlers founded the Sanavik Co-op in 1971, an art studio where artists each owned a share and therefore had a vested interest in the success of the works produced. Sanavik also included a print studio with an intent to train printmakers and produce high quality print collections. While faced with skepticism on whether a printmaking program was a worthwhile investment in Baker Lake, the Eskimo Arts Council approved the sale of a print collection and requested a special exhibition to market the new creations. [2]
Differing from their predecessors, the Butlers believed in encouraging artists to produce how and what they wanted, rather than abiding by a specific Western-influenced aesthetic. Artist Thomas Iksiraq was trained in as studio manager and noted how the Butlers encouraged him to accept carvings as they were and not instruct artists to finish them in a different way. Once the carving was declared finished by the artist, it was truly finished. [3] This notion of open-mindedness and non-judgmentalism at Sanavik turned out be the breath of fresh air that the artists of Baker Lake needed. It encouraged a range of diverse artistic production that allowed artists like Luke Anguhadluq, Jessie Oonark, and many more, to absolutely flourish.
Endnotes
1. Marie Bouchard, An Inuit Perspective, (Toronto: Art Gallery of Ontario: 2000), p. 27.
2. Richard C. Crandall, Inuit Art: A History, (McFarland Publishing: 1999), p. 181.
3. Bouchard, An Inuit Perspective, p. 31.
First Arts is proud to offer five exceptional works from the collection of Jack Butler, collected during his time spent living in Baker Lake, and working closely with its most celebrated artists, in our forthcoming June 2023 auction. Four of the five have been exhibited and/or published previously. But Jack Butler's legacy extends far beyond the works he collected himself. Our June sale is replete with further masterful examples of sculptural, graphic, and textile art from Baker Lake from the all-important period of the early to mid 1970s.
---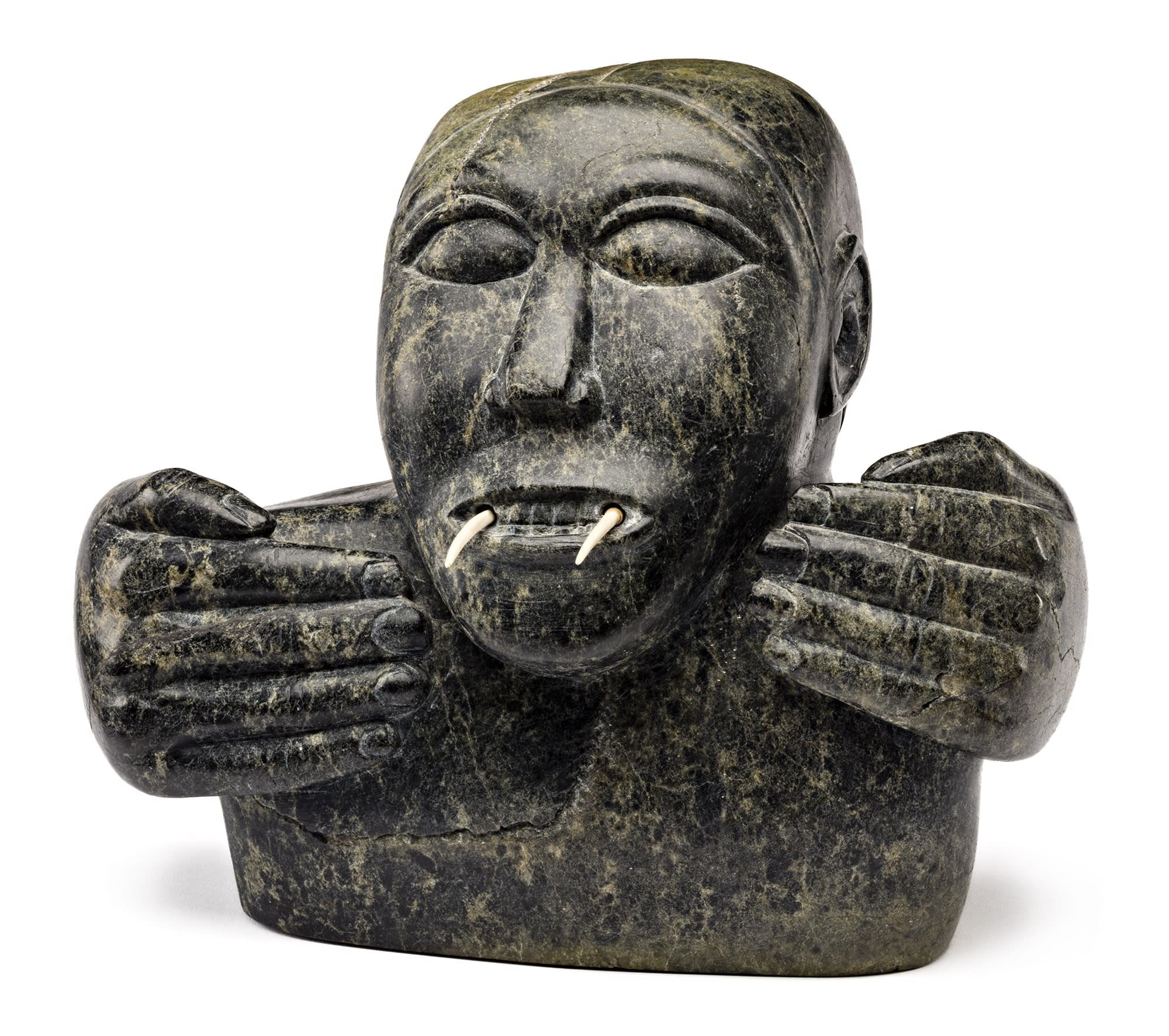 NANCY PUKINGRNAK AUPALUKTUQ
Woman Shaman, 1976
stone and antler, 9 x 11 x 7.5 in (22.9 x 27.9 x 19.1 cm)
ESTIMATE: $5,000 — $8,000
From the Collection of Jack Butler.
---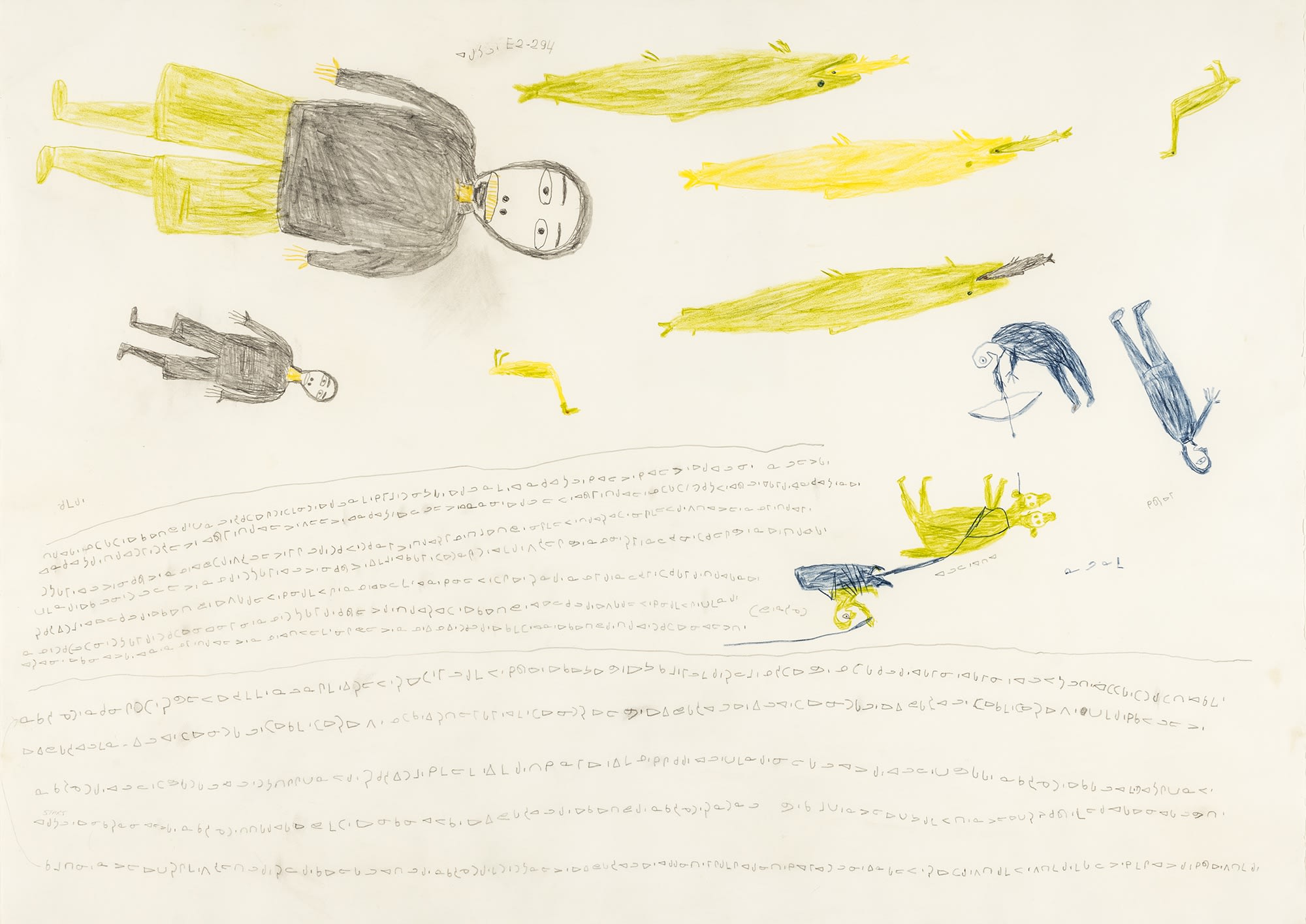 Lot 36
LUKE ANGUHADLUQ
Qiviuq, 1970
coloured pencil on heavy wove paper, 29.25 x 41.25 in (74.3 x 104.8 cm)
ESTIMATE: $6,000 — $9,000
From the Collection of Jack Butler.
---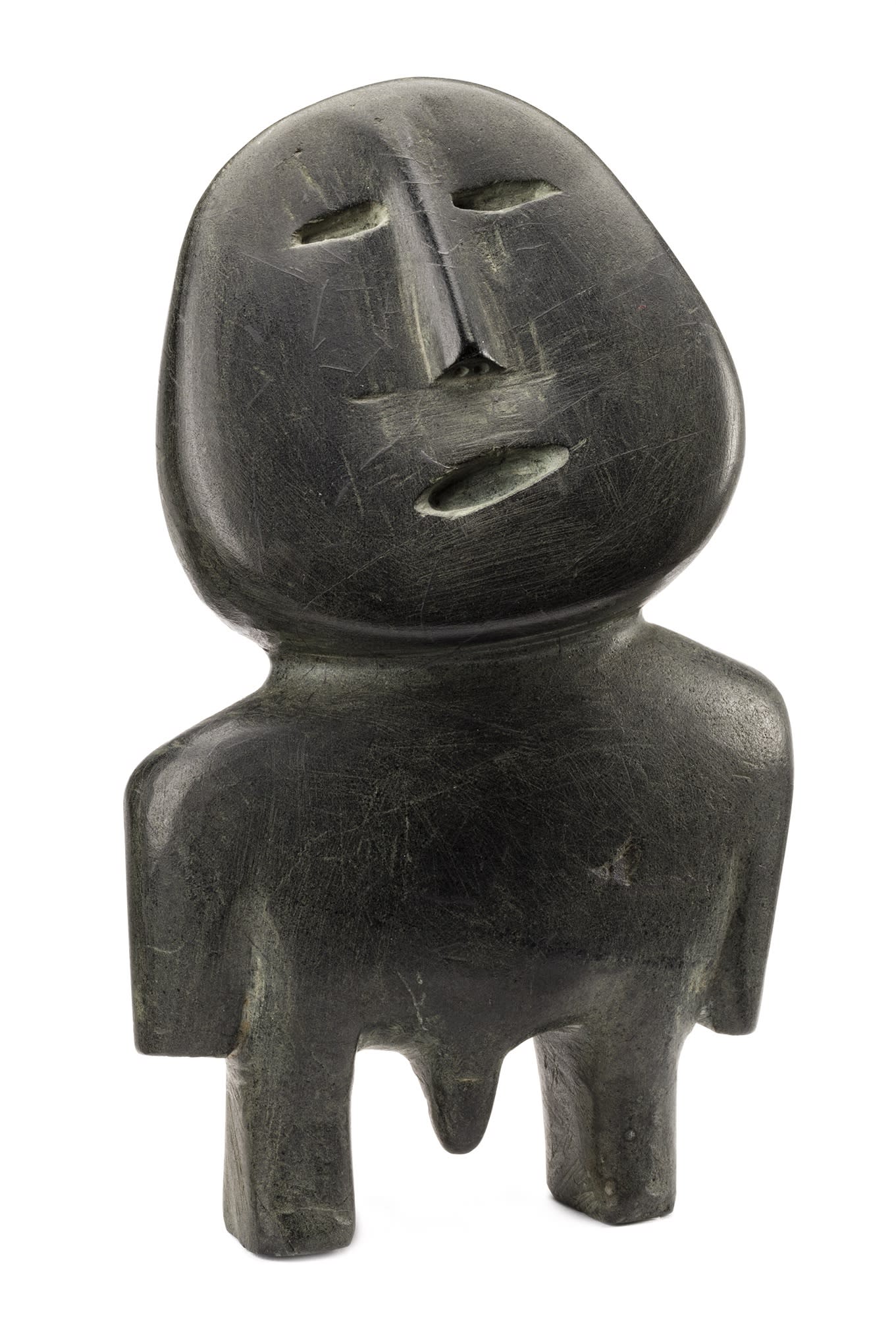 PETER INUKSHUK
Standing Man (The King), 1969
stone, 8.75 x 5.5 x 2.75 in (22.2 x 14 x 7cm)
ESTIMATE: $6,000 — $9,000
From the Collection of Jack Butler.
---
YVONNE KANAYUQ ARNAKYUINAK
Mother with Five Children, 1970
stone, 4.5 x 3 x 2.75 in (11.4 x 7.6 x 7cm)
ESTIMATE: $4,000 — $6,000
From the Collection of Jack Butler.
---
PETER INUKSHUK
Man Signalling Caribou Sighting, c. 1970
stone, 9 x 7 x 1.75 in (22.9 x 17.8 x 4.4 cm)
ESTIMATE: $3,000 — $5,000
From the Collection of Jack Butler.
---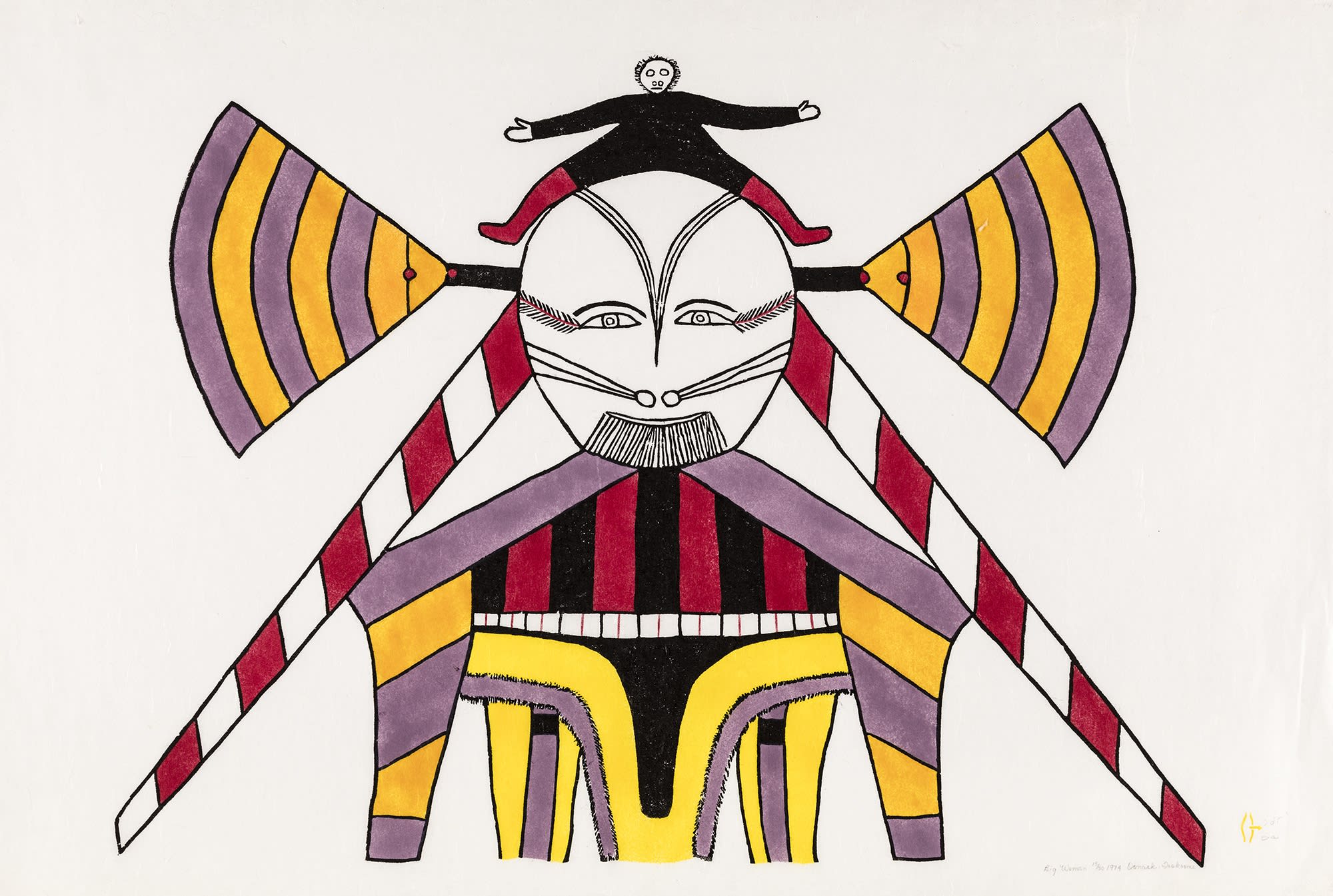 JESSIE OONARK
Big Woman, 1974, #2
stonecut and stencil, 25 x 37.25 in (63.5 x 94.6cm)
ESTIMATE: $4,000 — $6,000
---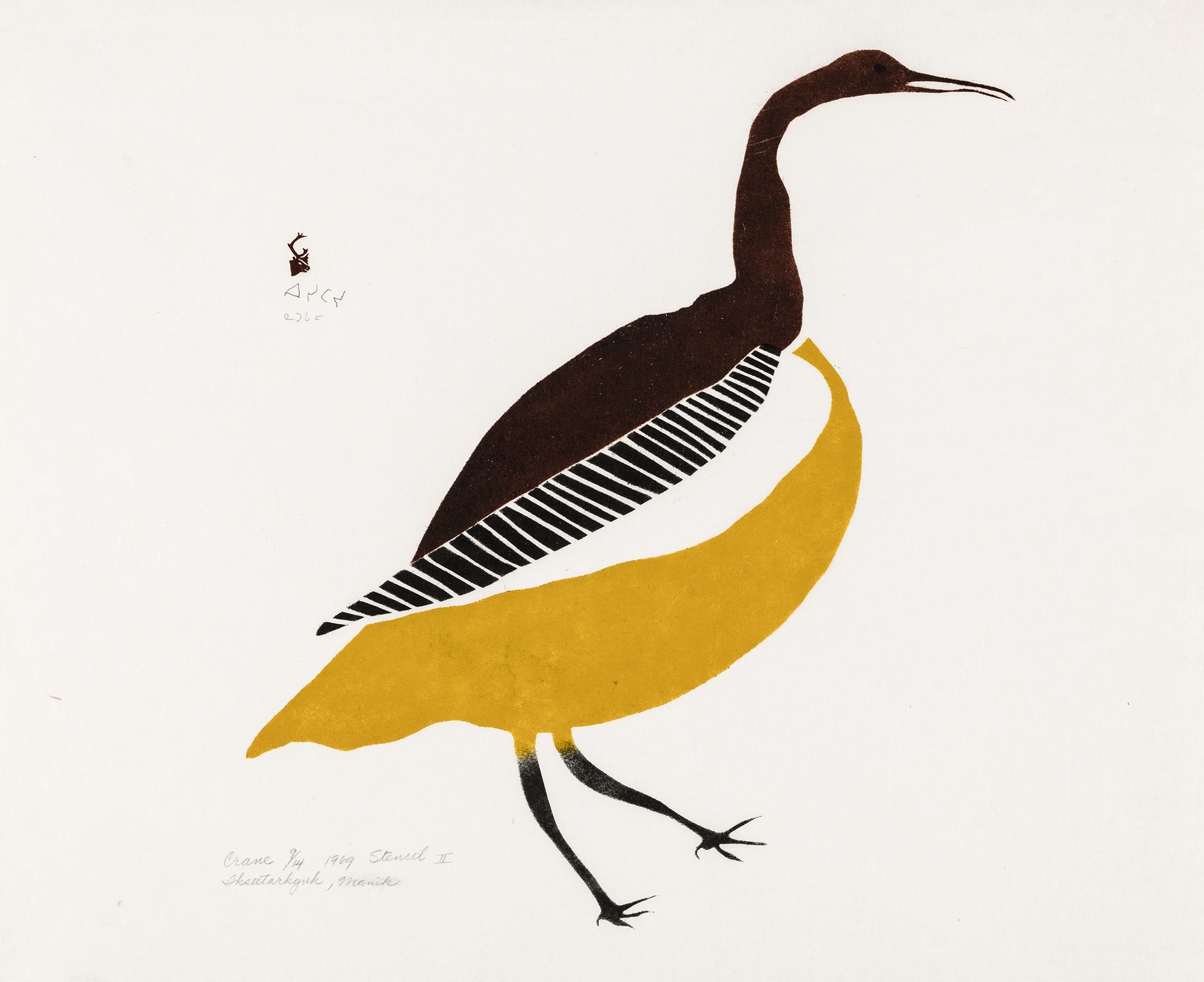 LUKE IKSIKTAARYUK
Crane, 1969 (1970 #32)
stencil, 20 x 24.5 in (50.8 x 62.2 cm)
ESTIMATE: $2,000 — $3,000
---
PETER SEVOGA
Mother and Child, early 1970s
stone, 12.5 x 13.5 x 9 in (31.8 x 34.3 x 22.9 cm)
ESTIMATE: $9,000 — $12,000
---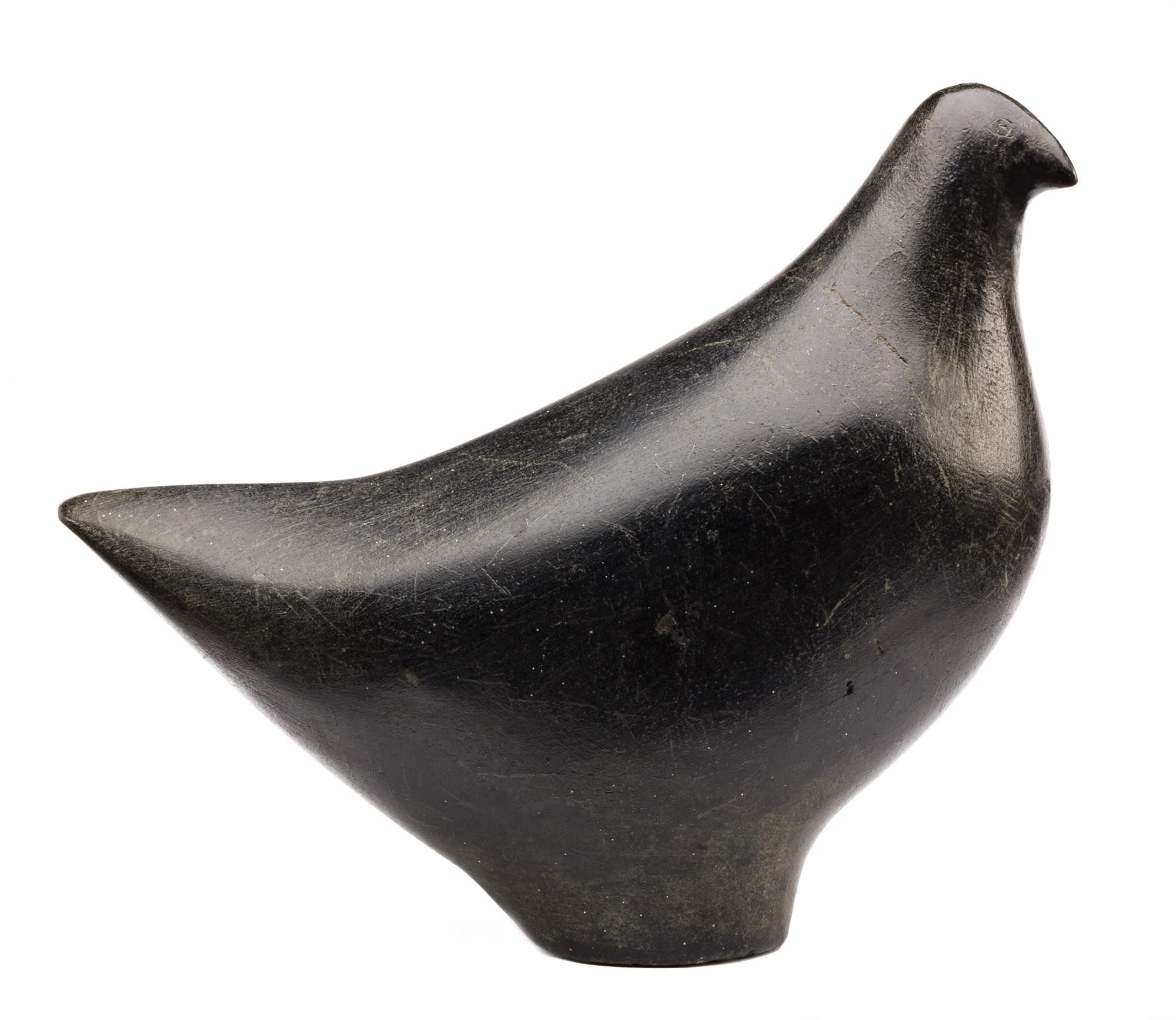 GEORGE TATANNIQ
Ptarmigan, early 1970s
stone, 5.5 x 6.5 x 3.5 in (14 x 16.5 x 8.9 cm)
ESTIMATE: $1,200 — $1,800
---
LUKE ANGUHADLUQ
Kayaks and Caribou, 1971 (1972 #10)
stonecut, 23.25 x 30.5 in (59.1 x 77.5 cm)
ESTIMATE: $2,500 — $3,500
---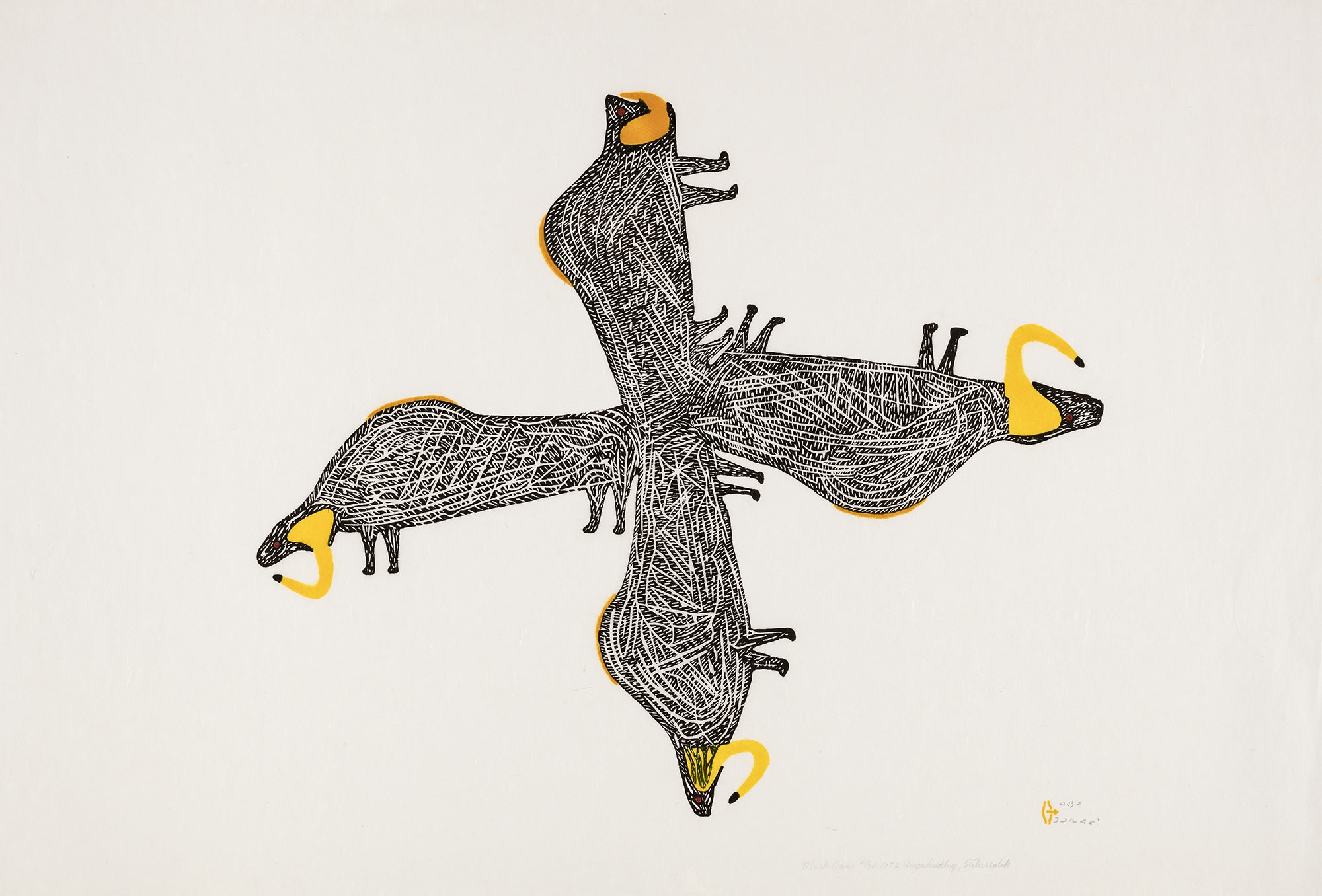 LUKE ANGUHADLUQ
Musk-Oxen, 1973 #4
stonecut and stencil, 25 x 37 in (63.5 x 94 cm)
ESTIMATE: $2,500 — $3,500
---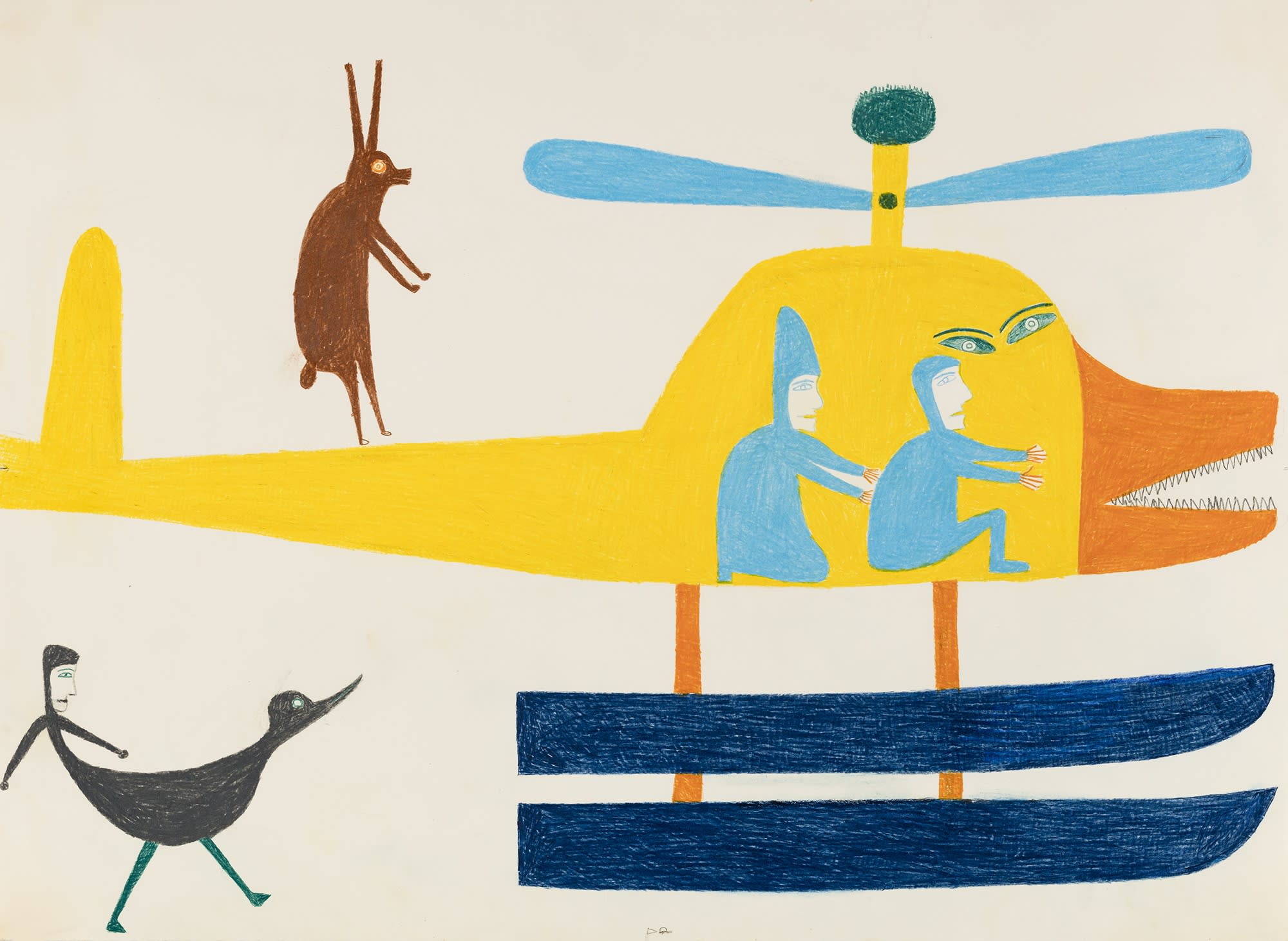 JESSIE OONARK
Untitled (Helicopter and Bird Transformations), c. 1976-78
coloured pencil on paper, 22 x 30 in (55.9 x 76.2 cm)
ESTIMATE: $4,000 — $6,000
---