TORONTO, May 30, 2019 - On May 28th, First Arts held its inaugural live sale of Inuit and First Nations Art. Offering a select group of 75 works from important Canadian and American collections, the auction realized a total of over $1.2 million, and sold an astonishing 95% of lots offered.
Held at Waddington's Auctioneers in Toronto, the First Arts sale included historical, classic and modern sculptures, graphics and textiles. The sale established new record prices for several artists, with 36% of lots selling above the high estimate.
The highlight of the sale was the exceptional Migration Boat by Joe Talirunili, which realized $408,000, setting a new world record price for a work of Inuit art. Another strong performer was Fisherwoman by Osuitok Ipeelee, which realized a price well over its estimate, reaching $90,000 against an estimate of $30,000 - $45,000.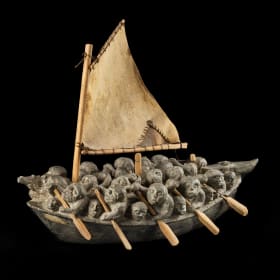 Joe Talirunili, Migration Boat Photo Credit: Dieter Hessel
"We couldn't be happier with the results of our first live auction", said Ingo Hessel, First Arts partner and Inuit Art Specialist. "The success of the sale shows that there is a strong and growing interest in top quality Indigenous art. First Arts' careful selection and thoughtful curation of diverse and rare works has resulted in a strong public response and we look forward to expanding our ambitious program of auction and retail sales."
First Arts is committed to fostering the development of Indigenous visual artists and scholars, and will be announcing the establishment of a programme of educational scholarships in the immediate future.
About First Arts First Arts is a new company promoting and marketing the art of Canada's First Peoples. With over 150 years of combined experience in retail, auction, academia and education, the First Arts partners (Ingo Hessel, Patricia Feheley, Mark London, and Waddington's Auctioneers) aim to broaden the appreciation of Indigenous art in accessible and creative ways for both experienced and novice collectors.